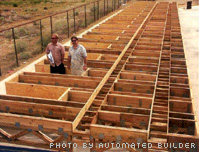 "Truss firm maximizes Koskovich Auto-Omni and OmniMiser: Ellis Truss Plans Major Expansion into Wall Panel Production"
Automated Builder, Volume 42, Number 5, May 2005, p. 22-24
HESPERIA, CA - Ellis Truss, a family operation located in the heart of the northern part of Southern California is a highly successful roof truss business on the verge of taking its expertise, and two Koskovich Co. Omni's, into the wall panel area.
Jim Ellis, founder and president of the company, recalls his start some 22 years ago.
"We got into the business using Skil saws and did that for two years, before we got some old, used, machinery," Ellis says.
Prior to getting into truss production, Ellis and his five brothers had worked in framing and knew what builders needed on site. Today, the company works out of a 5,600-sq.ft. production facility and employs 35 people.
Ellis first heard about one of Jerry Koskovich's Auto-Omni Component Cutters in 1995 in Oakland. The company using it invited him to come over and see it in operation.
"I watched it for about two minutes," Ellis says, "and then started to leave. They asked me where was I going. I said I'm going to buy me an Auto-Omni."
Ellis considers it a "fantastic machine," noting that it has increased his production 500% from the day he bought it. Ellis says that although other shops talk about cutting back on labor, Ellis Truss has added personnel.
"We created more work, so we needed more guys to stack lumber," he says.
Ellis also says that the Auto-Omni has been more than reliable, with only three down days in over six years, and ordered parts came overnight.
"Jerry has been wonderful," Ellis says, "when we need parts we get them overnight. But we do take care of it. We clean it twice a day, really clean."
Ellis observes that Koskovich's Auto-Omni robotic component saw was the first invented to be controlled by computers. It also was the first component cutter for the truss industry that was designed for computer operation rather than a saw remodeled from manual operation for computer control.
In some major truss operations, the computer-controlled Auto-Omni will handle as many as 400 to 600 setups in an average eight-hour shift. And, one of the true beauties of the Auto-Omni saw is the fact that it is infinitely 'updateable', meaning that every time an improvement is added it can be added to every Auto-Omni which has gone before. Now in operation for almost 20 years, more than 300 Auto-Omni component cutters are in plants in the United States and in many nations around the world.
On the basis of his success with the Auto-Omni, Ellis purchased an OmniMiser, and he also considers it a "great machine," which runs all day without problems.
The Koskovich OmniMiser, also frequently referred to as a truss and panel parts processing machine, also was invented by Jerry Koskovich for robotic, computer control. This machine is probably the only one in the industry which, quite literally, does its own materials handling.
There are two version of this saw called 'Misers.' The first, called simply the Mini-Miser, was restricted to 90 degree cuts. It was primarily designed for wall panel parts. The second machine, called the OmniMiser, will handle both 90 degree and angle cuts and it therefore is suitable to prepare parts for wall panels and roof and floor trusses.
In operation, both machines can be loaded with a full bunk of lumber at the end. As the computer calls for stock, lumber from the bunk or from up to six magazines along the conveyor heading toward the undercut saw can be selected and transported up to the right angle conveyor leading to the saw.
Both the OmniMiser and the Mini-Miser will optimize lumber, getting the most out of specific lengths so waste is reduced to an absolute minimum. What's more, the pieces are all individually marked on two sides by an ink jet printer which tells the down-stream operators where the parts go and prints information about assembly locations and job numbers.
It is understood that work is now being done on conveyor systems which will move parts from Mini-Miser and the OmniMiser directly to the locations for truss or wall panel fabrication.
Ellis uses both Auto-Omni and the OmniMiser together, depending on the nature of the cutting work required.
"Our Auto-Omni takes a little time to set up, but then it cuts 23 pieces a minute. The OmniMiser can be set up instantaneously but it cuts four pieces a minute. If we're cutting nine or more pieces we use the Auto-Omni, if it's eight or less we use the Miser. If the cut is over 16' then we use the Auto-Omni," Ellis explains.
At the moment Ellis is doing 100% roof truss work, and finding enough of it to keep the company busy.
"We do all custom jobs," Ellis explains, "because the Omni's are so exact in their cuts. Our competitors have one, two, three repair crews they send out to the site. We don't have a repair crew because nothing's wrong with our cuts or our trusses. Our tolerances are 1/16 of an inch."
As a result, the company has a good reputation throughout Southern California, all of which serves as its market area.
---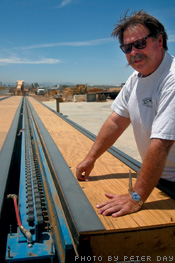 "Wall of opportunity: Local truss company brings wall paneling technology to region"
by Peter Day, Hesperia Star, 20 June 2005
Read the full article
Truss builder Jim Ellis believes he's got a better mouse trap, and in the world of homebuilding that means faster construction, happy customers and more business.
In this case, the golden goose is the company's expansion into the production of wall panels, which will enable his clients to significantly reduce framing hours. The technology is regularly found in other parts of the country, but not Southern California, according to Ellis.
There are many reasons wall paneling should take on quickly. A framing job that usually takes two or more weeks can be completed in just several days, according to Ellis.
"It takes one-third the time," he said.
Typically, framing is performed by a crew of workers. First one worker "lays out the house." A few days later, a few workers frame the walls and raise them up. Days later, another worker plumbs the lines and later workers come to the site to apply sheeting and create the fascia.
"So the framing drags on for two weeks," Ellis said. "Now you should be able to have it done in a day and a half."
One wall paneling industry demonstration showed that a typical framing job that takes an 11-man crew 96 hours can be completed a six-man crew using pre-made wall panels just 23 hours.

Workman's Comp savings
But saving man-hours is just the start, according to Ellis. Less framing hours equates into a reduction in related costs, such as ballooning Workman's Compensation payments. Ellis estimates that a typical house costs just over $2,000 in Workman's Comp, but the same house using wall panels would cost just $70.
"That's a huge savings there."
In fact, Ellis says that the owner of a large framing company believes he will save $8 million a year in Workman's Comp insurance.
Wall paneling, which entails the construction of entirely framed wall sections, also is good on the environment. Typically, a newly built home will generate several tons of scrap materials. Wall paneling reduces wood debris to a relatively insignificant amount. Ellis was stunned by how little scrap was generated after one wall paneling job on a 2,400-square-foot home.
"The scrap was 40 pounds," he said. "The scrap is minimal."
Another benefit of not having lots of wood around the construction site is a reduction in theft.
"Nothing can be stolen."
To create wall panels, Ellis Truss has purchased a state-of-the-art computerized saw and built a 100-foot-long table to assemble the wall pieces. The saw's computer program estimates the most efficient use of the wood, literally cutting corners to prevent wood waste.
Wall paneling technology also makes it easier to build a tricky rake wall that traditional framers prefer not to do. And builders of housing tracts will be able to make slight design changes on the go if a plumbing or air conditioning contractor suggests a wall stud be moved.
Ellis, who founded the truss company 22 years ago, is literally banking on his new wall paneling business being a success. A crew, which includes several members of the Ellis family, will work on the project, which is officially unveiling this week after a large motor and crane are assembled at the end of the table.
"It's finally here now," Ellis said. "It's going to be so busy that we wanted to be careful when we got it up and running."
With the equipment investments and the prospect for more business comes a new realization for Ellis.
"We're a major player now," Ellis said.
Original article available at Hesperia Star:
http://www.hesperiastar.com/story.php?id=977_0_1_0_M
---